Northern Trust Company Ltd is pleased to welcome David Jones to their Land and Development team.
David has joined the company as Senior Land Manager and will be working on a variety of projects. Northern Trust has a land bank of over 5,000 acres, and is actively looking for further residential and commercial land opportunities to purchase, promote or develop throughout the UK.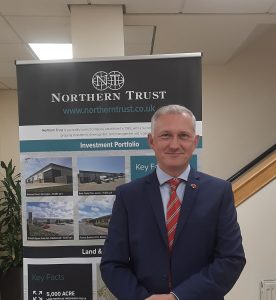 The company has an impressive track record of achieving planning consent on sites and has been successful promoting its own, and third party landowner's sites. In the last 24 months the team has achieved planning for c 4,500 residential units, and our current projects covering more than 30 sites incorporate a mixture of uses including the potential of bringing forward a further 5,000 new homes.
David brings with him a wealth of experience having previously worked with National house builders, land promoters and in consultancy for over 25 years. He has worked on a range of development projects throughout the UK.
David commented on his move to Northern Trust "I am delighted to be working with Northern Trust and look forward to securing and delivering a strong pipeline of development opportunities."
To read the full press release please click here.