Northern Trust Company Ltd is pleased to confirm that, working alongside the landowner, they have secured planning permission for 65 dwellings on the 15.8 acre site at Bulcote Steading.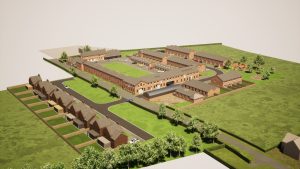 The site is owned by Midlands Land Portfolio Limited (MLPL), the property development arm of Severn Trent, with Northern Trust acting as their planning promotion partner. Northern Trust has secured planning permission for the site and is now working alongside MLPL on the marketing process for disposal of the site.
The site which comprises a Grade II Listed model farm complex located within the Bulcote Conservation Area and within the Green Belt, has been the subject of extensive discussions with Newark and Sherwood District Council and Historic England regarding the future of the listed buildings. Following lengthy discussions an application for planning permission and listed building consent was submitted in 2015, supplemented by a further application in 2017. This proposed the conversion of the existing buildings to provide 24 dwellings and a community hall alongside the provision of 41 new build homes. In light of the extensive discussions with the local planning authority and Historic England the planning application was approved at planning committee in October 2020, and following detailed negotiations the S106 has now been agreed and planning permission granted.